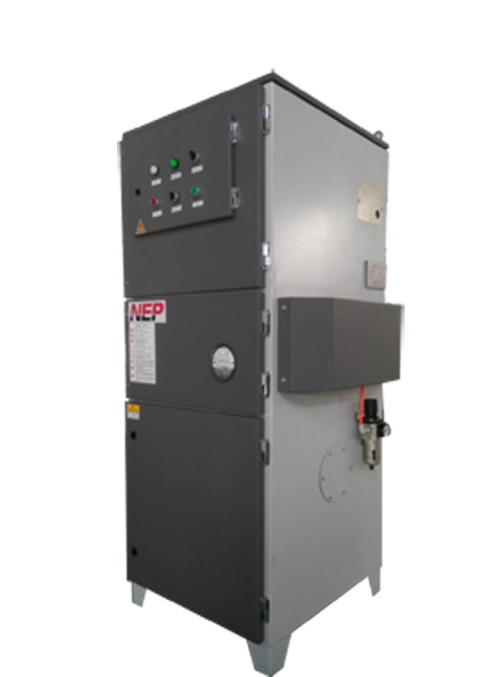 Vibration Type Cartridge Dust Collector-Vibration Dashing Mode
Description
Vibration type dust collector(no need for compressed air)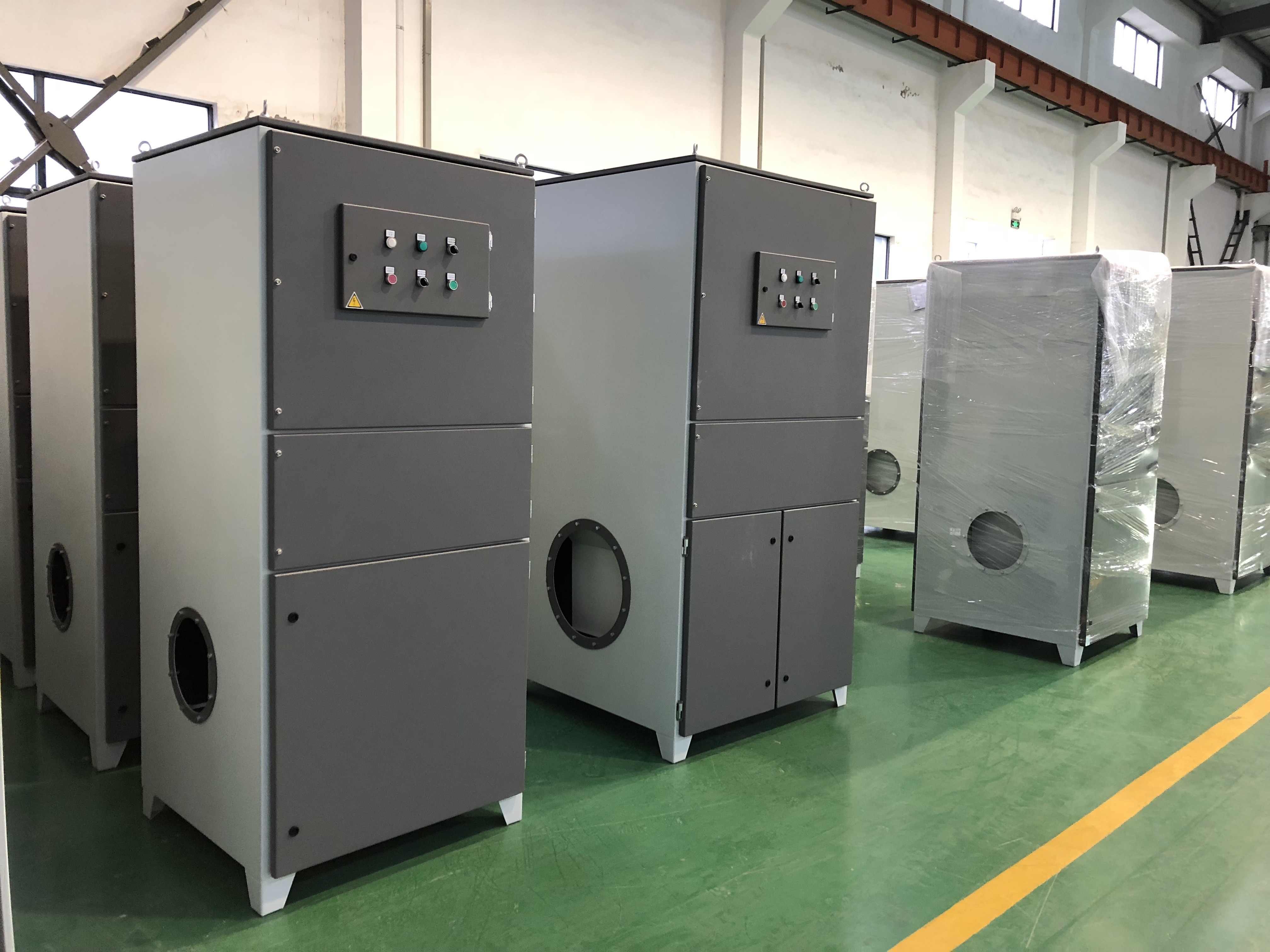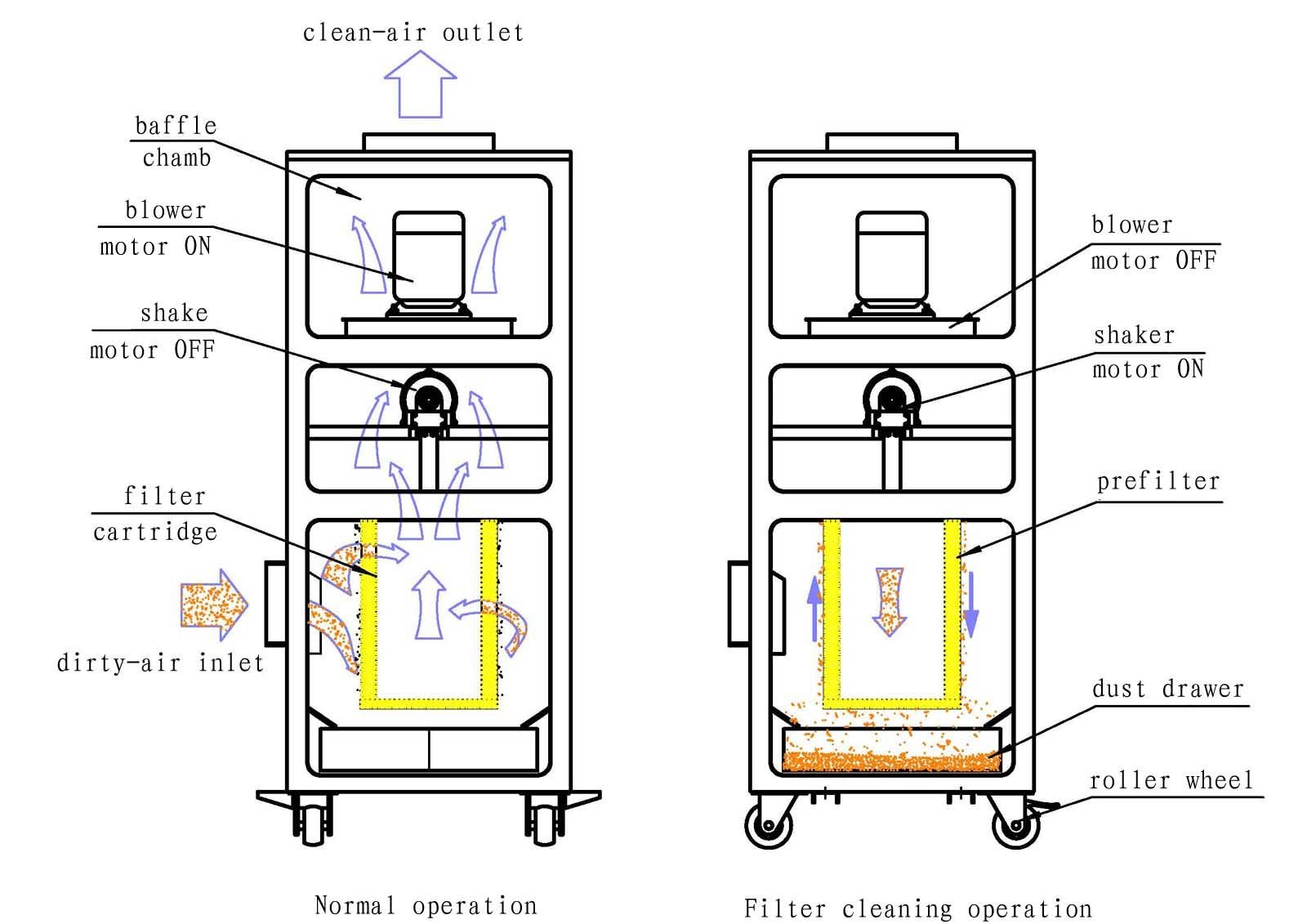 Normal operation: switch on the power, turn on the fan, dust air enters the cylinder from dust source through suspended hood, air hose and air inlet. Flow rate drops suddenly due to air stream soaring, big grain dust separates from dust air and then sink into dust storage tank, other small grain dust remains at the outer wall of filter element under the influence of filtering, colliding, hooking and static electricity. Purified air is discharged from the fan to air outlet via the anechoic chamber above.
Dust cleaning operation: dust cleaning goes on discontinuously, high-frequency vibration will enable the filter to regenerate after the fan shuts down.
Application
When there is no compressed air for cartridge filters cleaning or the air backflow may influence the working process, it would be a best choose, for example, the backing flow gas(pulse jet dust collection type)may cause the packing material spilt when packaging machine working.
Application environment: temperature: -10 centigrade +55centigrade,
relative air humidity no higher than 85%, without compressed air source,
Application industry: chemistry industry, pharmaceutical industry, food processing, metal processing,
compound material, electronics, building materials, electrostatic coating and other fine air particles,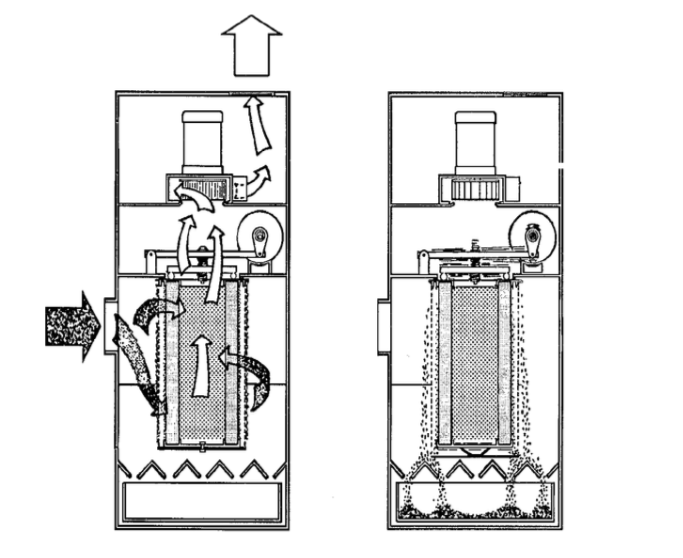 Normally, the raw gas will come into the dust collector body. Because of the weight, filter's crash, hook...
the dust will be blocked by the cartridge filters or filter bags. The clean air will be extracted out of the dust collector by the centrifugal fan who is setting behind the dust collector;
Then, the filter's pressure will high because of the dust cake on the filter surface, at this time the dust collector's efficiency growing high, that is what we said"deep filtration". but, when when the filter's pressure meeting the summit of the pressure setting, the manual shaking/vibrating system will working, and cartridge filters will shaking its body, and the dust sticky on the surface of filters will falling into the dust bin or dust hood.
Part No.

Air Capacity




Total Pressure




Motor













Power




Noise




Efficiency




Shake Power(A Type)

Weight







TUOER-5A

500~700(m3/h)

2040~1780(Pa)

0.75(Kw)

≤50dB(A)

99.99(%)

0.18 Kw

120Kg

TUOER-8A

700~900(m3/h)

2040~1780(Pa)

0.75(Kw)

≤60dB(A)

99.99(%)

0.18 Kw




120Kg

TUOER-10A

900~1100(m3/h)

2040~1780(Pa)

1.1(Kw)

≤60dB(A)

99.99(%)

0.18 Kw




120Kg

TUOER-15A

1400~1600(m3/h)

2050~1690(Pa)

1.5(Kw)

≤65dB(A)

99.99(%)

0.18 Kw




135Kg

TUOER-25A

1688~2476(m3/h)

2150~1820(Pa)

3.0(Kw)

≤70dB(A)

99.99(%)

0.18 Kw




155Kg

TUOER-30A

2664~3405(m3/h)

2700~2200(Pa)

4.0(Kw)

≤70dB(A)

99.99(%)

0.37 Kw




215Kg

TUOER-40A

3786~4527(m3/h)

2700~2200(Pa)

5.5(Kw)

≤75dB(A)

99.99(%)

0.37 Kw




315Kg

TUOER-60A

4973~6457(m3/h)

2700~2200(Pa)

7.5(Kw)

≤78dB(A)

99.99(%)

0.37 Kw




475Kg

TUOER-80A

7081~8489(m3/h)

2700~2200(Pa)

7.5(Kw)

≤78dB(A)

99.99(%)

0.37 Kw




615Kg